INSTRUCTIONS: Registration payments are being accepted online this season. You may pay via Venmo (@abtbp) or via credit/debit card with PayPal.
(1) To pay your $20 registration fee via Venmo, please submit your payment to @abtbp. Reference your child's name and division please (e.g. John Smith – 5th grade boys).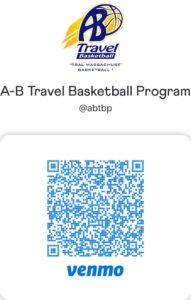 (2) To pay your $20 registration fee via a credit/debit card (via PayPal), Click here.  Don't have a PayPal account? Don't worry, you don't need one. When the page opens, just click "Pay with Debit or Credit Card" at the bottom of the page.
This $20 fee is required from all players via Venmo or PayPal prior to tryouts and is non refundable.
For players that make a team, the balance of the fee for the season ($360) will be due no later than two weeks following the second tryout. If you feel you may need financial aid consideration should your child be selected for a team, please contact us prior to tryouts.
Questions? Send an e-mail.